Overview
For those who use McAfee as their Mac security software, there may be a moment when you want to try out other software or simply uninstall it to make room for other important files or applications because you have run out of application memory in your system. This article gives a detailed guide on how to uninstall McAfee On Mac.
If you decide to uninstall or switch to another application, you should take a close look at the steps on how to properly and safely uninstall McAfee on Mac using the manual method or the McAfee uninstaller for Mac.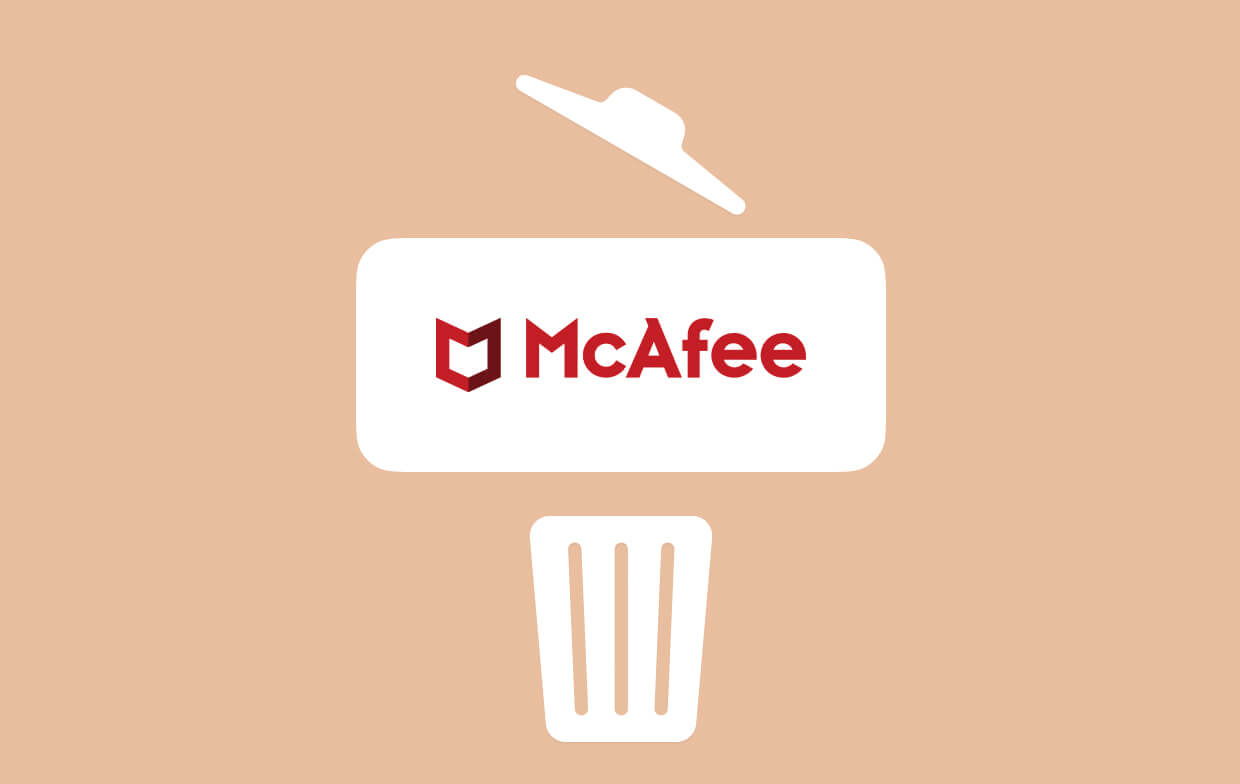 Why is McAfee so difficult to uninstall?
Although Mac computers are not more susceptible to malware than Windows, there is always a risk of infiltration from ransomware, trojans, and other malware.
McAfee software provides user protection in a cross-platform package. The main difference from McAfee is that all security products, including antivirus, are cross-platform. It simply means that you can use the software on Windows, iOS, and Android devices. As with other cross-platform security products, McAfee has an online installation process.
Why is McAfee so difficult to uninstall? The removal process for most legitimate anti-malware is more complicated, as you have to decide whether or not to keep certain files (if you want to reinstall McAfee). Or, in some cases, the application may become unstable, making it difficult to delete some files. So, how do I completely uninstall McAfee?
How to Completely Uninstall McAfee on Mac
For those who want to completely uninstall McAfee on Mac in an easy and fast way, you need to install iMyMac PowerMyMac. By using this highly effective and reliable tool that gets rid of unwanted applications like Office, optimizing your device and protecting your privacy is a worthy investment in the long run.
Whether you're looking to free up some hard drive space or try out a new but similar app, PowerMyMac is the answer. With just a few clicks, you can easily uninstall any app and its associated files to free up space on your device.
After installing PowerMyMac, you will find more than 10 useful tools in the application. Since you want to uninstall McAfee on Mac, the focus is on the specific McAfee uninstaller for Mac – Application Uninstaller.
It's time to take a close look at the steps to uninstall McAfee from Mac using PowerMyMac.
With your PowerMyMac open, click Uninstall Apps on the left.
Start scanning apps by clicking "SCAN" then you will see all installed apps on your device.
Locate the McAfee app, click it to expand the folder or files below it.
Press the "CLEAN" knob to start the cleaning process. This will help you uninstall McAfee completely.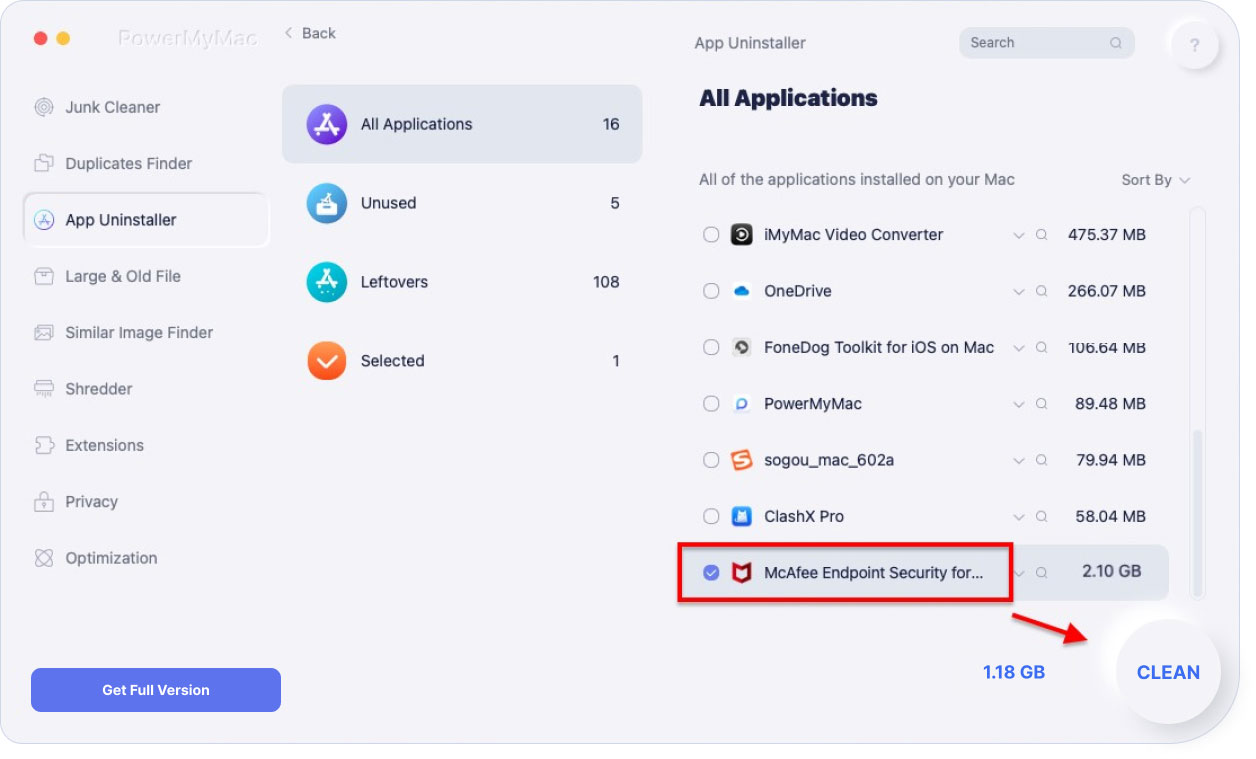 How to uninstall McAfee on Mac manually
How to uninstall McAfee from Mac? If you want to learn the perfect way to uninstall McAfee on Mac , there are options to choose from – uninstall and uninstall. It's important to note that these procedures are not the same, since deletion simply means that you've moved the app's icon to the Trash. Keep in mind that this will not help you get rid of additional McAfee files. Also remember to exit the McAfee app first.
How to uninstall McAfee on Mac without an uninstaller
If manual removal is enough for you, follow these steps to uninstall McAfee on Mac.
Open the Applications folder
Locate the McAfee icon > click and hold it
Drag the McAfee logo to the trash.
Empty the Trash by pressing Ctrl and selecting Empty Trash.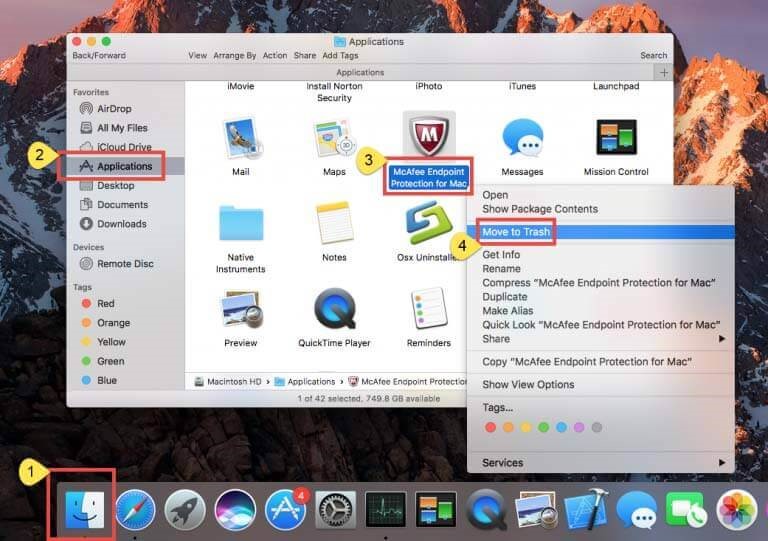 It is important to note that you must follow the entire McAfee removal procedure from the system. If any of its optional components are left behind, it can cause your Mac to slow down.
Uninstall McAfee on Mac via Terminal
Based on the McAfee developer's official website, you can uninstall McAfee on Mac using a dedicated command in the Terminal.
Open Terminal from Launchpad.
If you are signed in to your device using your user account, you will need to sign in again as an administrator. Just log out or use the command in the Terminal:login admin [name][/name]
Enter one of these commands in the window, depending on the version of the antivirus you are using.

McAfee v. 4.8-sudo /Library/McAfee/cma/uninstall.sh
McAfee v. 5. x-sudo /Library/McAfee/cma/scripts/uninstall.sh

Press Enter on your keyboard
After the uninstall process is complete, reboot your device. The McAfee app will be removed from your Mac.
Remove the Web Control extension installed by McAfee
Access to Safari preferences.
Click the Extensions tab.
Select the Web Control check box, then remove it.
Let's wrap it up
Now that you have options to uninstall McAfee on Mac, it is recommended to choose the method using PowerMyMac if you want a quick and hassle-free approach.
With this application, you can easily uninstall McAfee on Mac with just a few clicks. Whether you want to free up space on your Mac or plan to install other security software, you are guaranteed to completely uninstall the application along with all components associated with it.